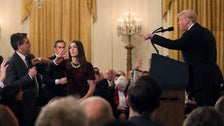 The White House revoked Jim Acosta's press credentials Wednesday after he had a heated exchange with President Donald Trump at a news conference and an intern tried to grab the microphone from the CNN reporter.
"As a result of today's incident, the White House is suspending the hard pass of the reporter involved until further notice," White House press secretary Sarah Huckabee Sanders told reporters. 
Acosta also tweeted that he had been denied entrance to the White House, where he was scheduled to film a spot for CNN.
He also shared video of the incident. 
Earlier that day, Trump tore into Acosta at the White House press conference, calling him a "rude, terrible person" when he refused to sit down after asking the president about a racist anti-immigration ad his re-election campaign had paid for and promoted ahead of Tuesday's midterm elections.
Acosta refused to give up the microphone when a White House intern tried to grab it from him, infuriating Trump.
"I'll tell you what, CNN should be ashamed of itself having you working for them … You shouldn't be working for CNN," Trump said to Acosta. 
In a series of statements on Twitter, Sanders characterized Acosta's actions as "placing his hands on a young woman," though video of the exchange shows Acosta turning away from her as the intern reaches over his arm to take the microphone out of his hand.
"This is a lie," Acosta tweeted back at Sanders. 
This is a developing story. Check back for updates.
https://platform.twitter.com/widgets.js

[//pagead2.googlesyndication.com/pagead/js/adsbygoogle.js
(adsbygoogle = window.adsbygoogle || []).push(
google_ad_client: "ca-pub-5245390701567296",
enable_page_level_ads: true
);
]

Source link