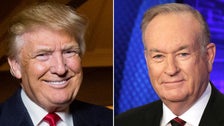 O'Reilly claims he's done the "research" and found no evidence that Trump promotes "Caucasian dominance."
That has some Twitter users wondering what passes for "research" for O'Reilly. 
Trump was a leader of the "birther" movement that questioned the birthplace of former President Barack Obama. He's attacked immigrants ― especially Mexicans and Muslims ― and reportedly said "we should have more people from places like Norway."
He's dismissed Haiti and nations in Africa as "shithole" countries, and last month told four women of color in Congress to "go back" to their own countries.
O'Reilly's tweet earned a "thank you" from Trump. But it also had some 11,000 other replies ― and many of them were a lot like these: 
REAL LIFE. REAL NEWS. REAL VOICES.
Help us tell more of the stories that matter from voices that too often remain unheard.
https://platform.twitter.com/widgets.js

[//pagead2.googlesyndication.com/pagead/js/adsbygoogle.js
});
]

Source link