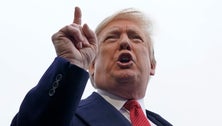 President Donald Trump on Friday defended a video shared by White House press secretary Sarah Huckabee Sanders that appeared to have been doctored to cast CNN reporter Jim Acosta in a negative light.
Sanders circulated the video Wednesday night after the White House announced it had revoked Acosta's press credentials following a contentious Trump press conference. She claimed the clip proves Acosta became aggressive with a White House intern attempting to take a microphone from him. 
"No one manipulated it, give me a break," Trump told reporters outside the White House.
"That is just dishonest reporting," the president continued. He added that Acosta may not have been "overly horrible" to the intern, but was "not nice to that young woman."
This is a developing story. Please check back for updates.
[//pagead2.googlesyndication.com/pagead/js/adsbygoogle.js
(adsbygoogle = window.adsbygoogle || []).push(
google_ad_client: "ca-pub-5245390701567296",
enable_page_level_ads: true
);
]

Source link