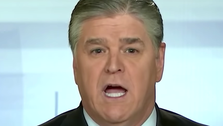 Fox News host Sean Hannity got on his high horse to hypocritically lecture CNN reporter Jim Acosta about journalistic ethics.
Hannity — who was widely criticized earlier this week for campaigning on stage with President Donald Trump — called Acosta "a self-serving liberal hack with zero journalistic integrity" who "deserves to be banned" from White House press briefings.
Hannity, who has repeatedly been called out for boosting Trump, was unabashed, however.
"He's unprofessional, it's outrageous, it's insulting," he said of Acosta. "He's supposed to be a journalist? That's a charade. You do a disservice to real journalists in the press corps."
[//pagead2.googlesyndication.com/pagead/js/adsbygoogle.js
(adsbygoogle = window.adsbygoogle || []).push(
google_ad_client: "ca-pub-5245390701567296",
enable_page_level_ads: true
);
]

Source link