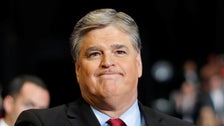 Hannity tweeted late Tuesday that the election results had been "a massive win" for Trump and the Republicans whom the president had campaigned for.
MOST in the media are absolutely clueless-tonight was a massive win 4 DJT & the ppl he campaigned 4-remember btwn the House & Senate Obama lost 69 seats, Clinton lost 60 seats-the democrats winning the house is meaningless – stay tuned for my analysis on radio & TV. Great night.

— Sean Hannity (@seanhannity) November 7, 2018
Democrats seizing control of the House was "meaningless," he added.
Hannity also blasted "most in the media" for being "absolutely clueless," echoing his "fake news" media rant when he was on stage with Trump in Missouri.
http://platform.twitter.com/widgets.js
!function(f,b,e,v,n,t,s){if(f.fbq)return;n=f.fbq=function(){n.callMethod?
n.callMethod.apply(n,arguments):n.queue.push(arguments)};if(!f._fbq)f._fbq=n;
n.push=n;n.loaded=!0;n.version='2.0′;n.queue=[];t=b.createElement(e);t.async=!0;
t.src=v;s=b.getElementsByTagName(e)[0];
s.parentNode.insertBefore(t,s)}(window,document,'script','https://connect.facebook.net/en_US/fbevents.js');
fbq('init', '1621685564716533'); // Edition specific
fbq('init', '1043018625788392'); // Partner Studio
fbq('track', "PageView");
fbq('track', 'ViewContent', {"content_name":"Sean Hannity Hypes Donald Trump Again, Says Democrats Winning House 'Is Meaningless'","content_category":"us.hpmgmed"} );
fbq('trackCustom', 'EntryPage', {"section_name":"Media","tags":["@health_ibs","@health_models","donald-trump","fox-news","2018-midterm-elections","sean-hannity"],"team":"us_huffpost_now","ncid":null,"environment":"desktop","render_type":"web"} );
waitForGlobal(function() {
return HP.modules.Tracky;
}, function() {
/* TODO do we still want this?
$('body').on('click', function(event) {
HP.modules.Tracky.reportClick(event, function(data) {
fbq('trackCustom', "Click", data);
});
});
*/
});