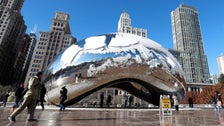 The video, released last year, flashes a scene of a reflective sculpture in Millennium Park in downtown Chicago titled "Cloud Gate," which is known to locals as The Bean.
Kapoor denounced the use of his 100-ton stainless-steel artwork after the video was released, saying he was "disgusted" that the NRA used The Bean without his permission to "promote their vile message" that "seeks to whip up fear and hate."
Kapoor filed suit in June against the NRA for copyright infringement.
"We are pleased to declare victory over the NRA," Kapoor said in a statement Thursday. "They have now complied with our demand to remove the unauthorized image of my sculpture Cloud Gate from their abhorrent video 'The Violence of Lies,' which seeks to promote fear, hostility and division in American society."
The NRA's "bullying and intimidation has not succeeded," he added. "This is a victory not just in defense of the copyright of my work, but it is also a declaration that we stand with those who oppose gun violence in America and elsewhere."
A scene of The Bean was flashed in the NRA video as sneering narrator and organization spokeswoman Dana Loesch refers to "their ex-president," meaning progressives and Barack Obama.
The video presents an apocalyptic view of America filled with angry, violent Americans, apparently liberals, who assault people, "shut down airports," smash windows and torch cars in city streets. The only answer is the "clenched fist of truth" by "law-abiding" Americans, Loesch declares in the video, and apparently guns in what appears to be a pending life-and-death battle.
While agreeing to scrub the sculpture scene from the video to settle the lawsuit, the NRA boasted in a statement to the Chicago Tribune that it's not paying any money to Kapoor and that it had settled the "baseless copyright claim." 
Kapoor's suit had demanded $150,000 in damages. "The NRA paid Kapoor nothing," taunted NRA public affairs director Andrew Arulanandam.
Kapoor invited the NRA in his statement to "do the honorable thing and donate $1 million to the victims of gun violence" through charities such as The Coalition to Stop Gun Violence, Giffords, The Brady Campaign and Moms Demand Action for Gun Sense in America.
After the video was released, Kapoor said that the NRA "perverts everything that Cloud Gate — and America — stands for."
The Bean mirrors the environment surrounding it in a kind of one-world perspective, including people admiring it as well as those who go about their business. Kapoor has called the work a "sculpture of the people of Chicago" and an "inclusive work that engages public participation."
[//pagead2.googlesyndication.com/pagead/js/adsbygoogle.js
});
]

Source link