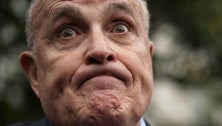 In November, the president addressed the topic of the special counsel's questions, telling reporters that he "was asked a series of questions" and that he "answered them very easily."
It's not uncommon for Trump to contradict the sentiments of someone else in the White House.
In late October, press secretary Sarah Huckabee Sanders said Mexico had "stepped up in an unprecedented way" with regard to the migrant caravans planning to enter the United States. Trump ― again, unsurprisingly ― contradicted her the same morning by saying Mexico was "unwilling" to help stop the caravan.
https://platform.twitter.com/widgets.js

[//pagead2.googlesyndication.com/pagead/js/adsbygoogle.js
});
]

Source link