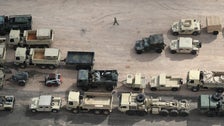 The Trump administration had been accused of using the deployment of more than 7,000 troops at the U.S.-Mexico border as a political ploy. The Pentagon has defended the mission but announced Wednesday it would no longer be known as Operation Faithful Patriot.
Defense Secretary Jim Mattis made the decision on Election Day to change the military-style name, The Wall Street Journal first reported Wednesday.
Pentagon spokesman Lt. Col. Jamie Davis confirmed the name change with several news outlets, including CNN, Reuters and The Hill, though Davis told The Hill that the name, which evokes a full-scale military mission, had been in place for "a couple of days."
"We are not calling it 'Operation Faithful Patriot,' we are calling it 'border support,'" Davis told CNN.
Davis did not provide a reason for the name change, but Chris Sherwood, also a Pentagon spokesman, told The Washington Post that "border support" more accurately described the deployment.
The Trump administration announced in late October that it was sending 5,200 more troops to the U.S.-Mexican border, doubling the number that were already there, in response to the migrant caravan approaching the U.S. in search of asylum.
Trump highlighted the caravan in campaign rallies leading up to Tuesday's midterm elections, repeatedly mentioning his anti-immigration agenda and the massive military deployment. 
Meanwhile, groups accused the administration of using the troops as a political ploy to bolster Republicans ahead of the midterms.
"We don't do stunts in this department," Mattis told reporters.
News of the mission's name-change comes one day after Democrats gained the majority in the House as Republicans maintained a majority in the Senate. 
[//pagead2.googlesyndication.com/pagead/js/adsbygoogle.js
(adsbygoogle = window.adsbygoogle || []).push(
google_ad_client: "ca-pub-5245390701567296",
enable_page_level_ads: true
);
]

Source link