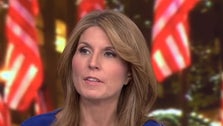 "This is everything," she said. "This changes everything." 
Trump on Twitter claimed the results were a "tremendous success" despite the fact that his Republican party is set to lose control over the House of Representatives. 
But Wallace wasn't having it. 
"This is a game-changer," she said. "This changes Washington, this changes life for the White House staffers, and this changes Donald Trump's life immediately."
Wallace said that it will change everything for the president and his agenda… and will spell two years of trouble for the White House.
See her full analysis in the clip above. 
http://platform.twitter.com/widgets.js
!function(f,b,e,v,n,t,s){if(f.fbq)return;n=f.fbq=function(){n.callMethod?
n.callMethod.apply(n,arguments):n.queue.push(arguments)};if(!f._fbq)f._fbq=n;
n.push=n;n.loaded=!0;n.version='2.0′;n.queue=[];t=b.createElement(e);t.async=!0;
t.src=v;s=b.getElementsByTagName(e)[0];
s.parentNode.insertBefore(t,s)}(window,document,'script','https://connect.facebook.net/en_US/fbevents.js');
fbq('init', '1621685564716533'); // Edition specific
fbq('init', '1043018625788392'); // Partner Studio
fbq('track', "PageView");
fbq('track', 'ViewContent', {"content_name":"Nicolle Wallace Hits Trump With A Reality Check: 'This Changes Everything'","content_category":"us.hpmgmed"} );
fbq('trackCustom', 'EntryPage', {"section_name":"Media","tags":["@health_ibs","@health_models","donald-trump","white-house","politics-and-government","nicolle-wallace"],"team":"us_huffpost_now","ncid":null,"environment":"desktop","render_type":"web"} );
waitForGlobal(function() {
return HP.modules.Tracky;
}, function() {
/* TODO do we still want this?
$('body').on('click', function(event) {
HP.modules.Tracky.reportClick(event, function(data) {
fbq('trackCustom', "Click", data);
});
});
*/
});