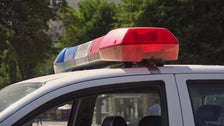 Police in Texas arrested a gun-wielding man dressed in tactical-style clothing on Sunday after he told officers he was headed to church to fulfill "a prophecy."
Tony Albert, 33, was detained and transported to Guadalupe County Jail in Seguin, roughly 50 miles southwest of Austin. He was booked on charges of felon in possession of a firearm and possession of marijuana. 
Seguin police officers responded to a report of a male carrying what was believed to be a handgun just before 7 a.m. on Sunday, according to a statement from Seguin Police Department spokeswoman Tanya Brown.
When officers arrived on the scene, they found "an oddly dressed male wearing tactical style clothing, a surgical face shield, carrying a loaded firearm and extra ammunition," according to Brown's statement. Albert allegedly told police he was en route to an unidentified church to fulfill what he called a prophecy.
"This morning, the Seguin Police Department is extremely grateful to the citizen who called police," Brown said. "If this subject was not stopped and apprehended the results could have ended differently."
Brown denied HuffPost's request for additional details at this time.
This is a developing story. Check back for updates.
[//pagead2.googlesyndication.com/pagead/js/adsbygoogle.js
});
]

Source link