It's tough to remember to bow ― or even stand still ― in the presence of the queen, especially when you're young! 
When Queen Elizabeth visited the children's charity Coram to open the Queen Elizabeth II Centre on Thursday, a boy named Nathan Grant was introduced to her by his adoptive parents, former British talent show judges David and Carrie Grant.
The 9-year-old lad, dispensing with protocol, dropped to the floor and crawled away.
"That's his version of a bow," his mother, a TV presenter, told the queen as everyone laughed. 
Her Majesty handled the moment with grace and a smile, and continued to greet others. 
Young Nathan wasn't done making a major impression on the royal visit, though. He shouted "bye!" as he crawled through a doorway. 
It's a moment his parents will likely never forget.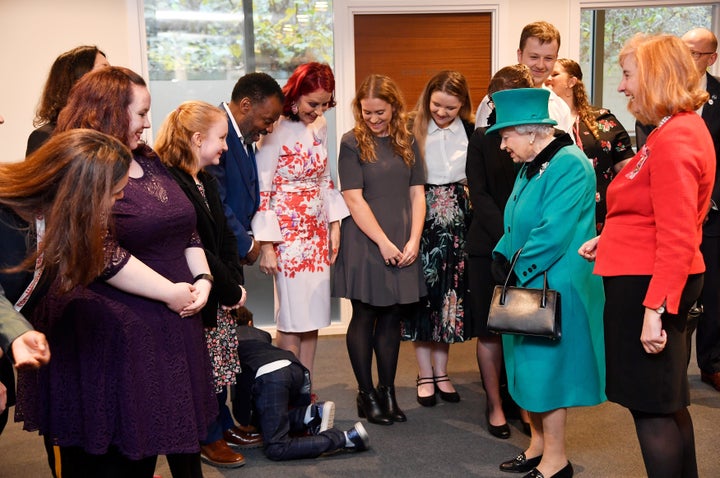 Nathan's mom said the charity and its support for children with special needs "is very close to our heart," according to The Telegraph.
"We have four children, three birth, one adopted, and they all have special needs," she said. "It's important for young people to know they are represented throughout society and to know that they are not alone."
In an interview earlier this year with Hello Magazine, the parents said Nathan, whom they adopted when he was 2, has attachment issues and ADHD.
Both parents acknowledged the funny moment on Twitter after it began receiving global attention on social media and beyond. 
"There's always one. Why is it always mine?" Carrie Grant tweeted. Later, she added: "This is what we will be playing him at his 21st birthday!" 
David Grant also chimed in on Twitter: "The day Nathan met The Queen!!" 
People on social media had some funny reactions to Nathan's exit: 
In an ITV documentary called "Queen of the World" that aired earlier this year, Prince Harry joked with visitors that even he has awkward run-ins with his "gran" around the corridors of Buckingham Palace.
"You guys have spent way more time in Buckingham Palace than I ever have – and you've only been here two weeks," he said. "Have you bumped into the queen yet? If you suddenly bump into her in the corridor, don't panic. I know you will. We all do!"
Sarah Ferguson, who was once married to Prince Andrew, said she also panics ahead of seeing her mother-in-law. 
"I always get really nervous before meeting the boss," Fergie said in an interview with KIIS-FM in Sydney. But that feeling doesn't last long. 
"She makes you feel comfortable within the first five seconds," Fergie added.  
https://platform.twitter.com/widgets.js

[//pagead2.googlesyndication.com/pagead/js/adsbygoogle.js
});
]

Source link