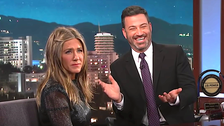 Jennifer Aniston called out Jimmy Kimmel Wednesday for his daughter taking a poop in Aniston's backyard. And it took Kimmel's family a year to fess up.
The conversation on "Jimmy Kimmel Live!" took a hilariously unexpected turn after the host urged the "Friends" alum to change the menu of her annual day-before-Thanksgiving feast.
Aniston's turkey meal, which Kimmel and his family attended last month, upstaged a similar dinner he prepared the next day, he griped.
The "Dumplin'" star agreed to consider his plea on one condition: That they discuss how Kimmel's daughter, now 4, "took a shit" on her lawn "right next to the beautiful pool."
Get the full scoop on the poop above.
[//pagead2.googlesyndication.com/pagead/js/adsbygoogle.js
});
]

Source link