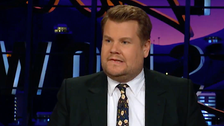 "The Late Late Show" broadcast a moment of silence to honor the victims of Wednesday's deadly mass shooting at the Borderline Bar & Grill in Thousand Oaks, California.
The photographs and names of those killed appeared on the screen as the audience sat quietly in the darkened studio. 
"What can we say that hasn't been said?" host James Corden asked before the tribute.
"How do we continue to beg the leaders of this country to change this culture when they clearly won't, when votes and financing and tradition seem to matter more than people's lives?" he added. "I cling to the hope that the new members of Congress will step up where their predecessors let us down."
[//pagead2.googlesyndication.com/pagead/js/adsbygoogle.js
(adsbygoogle = window.adsbygoogle || []).push(
google_ad_client: "ca-pub-5245390701567296",
enable_page_level_ads: true
);
]

Source link