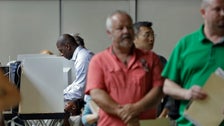 Election officials in Florida have announced the state will officially hold a recount that includes its high-profile Senate and gubernatorial races. 
Florida Secretary of State Ken Detzner officially ordered recounts in three statewide elections for governor, U.S. Senate and for agriculture commissioner on Saturday.
A statewide machine recount is carried out when the margin of victory is less than 0.5 percentage point. 
This is a developing story, check back for updates.
[//pagead2.googlesyndication.com/pagead/js/adsbygoogle.js
(adsbygoogle = window.adsbygoogle || []).push(
google_ad_client: "ca-pub-5245390701567296",
enable_page_level_ads: true
);
]

Source link