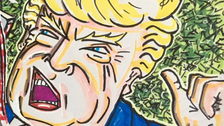 Trump on Tuesday pledged his loyalty to Saudi Arabia even if the crown prince ordered last month's killing of Washington Post columnist Khashoggi, a critic of the regime. On Wednesday, the president thanked Saudi Arabia for low oil prices.
While Carrey's artwork seems to show Trump and MBS as buds, the president said in his statement on Tuesday, "Our relationship is with the Kingdom of Saudi Arabia."
And we already know what Carrey thinks about anything Trump says.
[//pagead2.googlesyndication.com/pagead/js/adsbygoogle.js
(adsbygoogle = window.adsbygoogle || []).push(
google_ad_client: "ca-pub-5245390701567296",
enable_page_level_ads: true
);
]

Source link