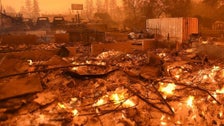 California continues to reckon with the most destructive wildfire it has ever seen as thousands of structures topple and the death toll rises to nine.
The Camp fire, centered on the Northern California town of Paradise, has incinerated 90,000 acres and nearly 7,000 structures, the San Fransisco Chronicle reported. On Friday, authorities announced five people had died in the fire attempting to escape in their vehicles. By Saturday morning, that number had jumped to nine. Three victims were found outside their homes, and one was found inside a home. 
"Due to the burn injuries, identification could not be immediately made," the Butte County Sheriff's Office said in a statement.
Video of the inferno taken by Paradise resident Brynn Parrott Chatfield on Thursday shows the horror of the fire. In the video posted to Facebook, two people are seen in a car trying to escape a barrage of flames licking the road. 
"I feel very vulnerable posting this but I feel I should," Chatfield wrote on Facebook. "My hometown of Paradise is on fire. My family is evacuated and safe. Not all my friends are safe. It's very surreal. Things always work out, but the unknown is a little scary."
President Donald Trump, meanwhile, has blamed the fires on poor "forest management" and threatened to cut federal payments. But the fires are more likely the result of climate change and overpopulation.
In Southern California, Venture County Fire Department Assistant Chief Chad Cook said drought and wind conditions have also played a role. 
"The first part of this fuel bed had not seen fire for many years," Cook said Thursday. "Drought-stricken fuels, Santa Ana wind conditions, low relative humidity, high temperatures: It's a recipe for fire."
The Woolsey fire has also caused 200,000 people to evacuate the city of Malibu. The fire has scorched more than 30,000 acres, the Los Angeles Times reported.
By comparison, the Tubbs fire last year burned more than 36,000 acres, destroyed more than 5,000 homes and killed 22 people. It was the most destructive fire in California's history until this week. 
https://platform.twitter.com/widgets.js

[//pagead2.googlesyndication.com/pagead/js/adsbygoogle.js
(adsbygoogle = window.adsbygoogle || []).push(
google_ad_client: "ca-pub-5245390701567296",
enable_page_level_ads: true
);
]

Source link