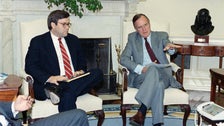 WASHINGTON ― The man whom President Donald Trump may nominate as the nation's next attorney general has previously supported Trump's call to investigate his 2016 rival Hillary Clinton and questioned the need for Robert Mueller's special counsel probe into Russian interference in the 2016 election.
Barr, if nominated and confirmed, would replace acting Attorney General Matthew Whitaker, a critic of the Mueller investigation whose historically unprecedented term at the helm of the Justice Department has faced legal challenges.
Late last year, after Trump called on the Justice Department to investigate Clinton, Barr told The New York Times that there was "nothing inherently wrong about a president calling for an investigation," though he cautioned that an investigation "shouldn't be launched just because a president wants it."
But he told the Times that he saw more of a basis for investigating Clinton's involvement in a uranium deal as secretary of state than he saw for investigating possible collusion between Trump and Russia. "To the extent it is not pursuing these matters, the department is abdicating its responsibility," Barr told the Times.
Barr supported Trump during the campaign and wrote a piece for The Washington Post days before the election saying that then-FBI Director James Comey did the right thing by disclosing that the bureau had essentially reopened the Clinton investigation. Months later, after Trump fired Comey, Barr wrote that Comey had "sandbagged" the Justice Department and usurped its authority by making the initial announcement about the Clinton probe in the summer of 2016.
The former attorney general had also critiqued the political donations given by members of Mueller's team, saying he "would have liked to see him have more balance" in the group. While Mueller's team has also been pretty leak-free, Barr also weighed in for a story in The Hill that suggested Mueller's team had leaked the notion that the special counsel investigation was looking at whether the president had obstructed justice by trying to end the probe into Michael Flynn. "Leaks by any investigation are deplorable and raise questions as to whether there is an agenda," Barr said.
Barr, who was 41 when he became Bush's attorney general, making him one of the youngest in U.S. history, had also offered up support for former Attorney General Jeff Sessions when he spoke out after one of Trump's many attacks.
"I think he was reminding the American people of a key attribute that we need in an attorney general, and that is integrity," Barr said in a USA Today story. "He's saying, 'Look, I'm calling things as I see it.'"
Last month, Barr co-wrote a piece with two other former attorneys general calling Sessions an "outstanding attorney general."
[//pagead2.googlesyndication.com/pagead/js/adsbygoogle.js
});
]

Source link