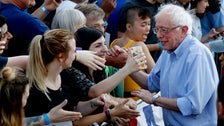 Sen. Bernie Sanders (I-Vt.) released his tax returns for the past 10 years on Monday amid growing calls that he meet the standard of his rivals in the race for the 2020 Democratic presidential nomination.
Sanders and his wife, Jane O'Meara Sanders, paid an effective tax rate of 26 percent on $561,293 in income in 2018. In addition to Sanders' Senate salary of $174,000, the couple earned hundreds of thousands of dollars in royalties on Sanders' book sales.
Sanders can now join Democratic calls for President Donald Trump to release his financial information without appearing to fall short of his own principles.
"Senator Sanders believes it is a privilege to live in the United States and he believes it is patriotic to pay the taxes that support our country," Sanders campaign manager Faiz Shakir said in a statement. "As a strong proponent of transparency, the senator hopes President Trump and all Democratic primary candidates will disclose their tax returns."
Sens. Elizabeth Warren (D-Mass.), Kamala Harris (D-Calif.), Amy Klobuchar (D-Minn.), Kirsten Gillibrand (D-N.Y.) and Washington Gov. Jay Inslee (D) have all released at least 10 years of tax returns, though some have done so more recently than others. Harris, who made 15 years of returns available, preceded Sanders by a single day. South Bend, Indiana, Mayor Pete Buttigieg (D), former Rep. Beto O'Rourke (D-Texas) and Sen. Cory Booker (D-N.J.) have yet to release their tax returns, though Booker revealed a 
In releasing his personal financial records, the Vermont senator delivers on a promise he made earlier this month that he would make the returns public by Tax Day.
Prior to that announcement, Sanders repeatedly vowed to release his returns but declined to specify a date. He was under some pressure to do so from Democratic insiders with more centrist leanings since, as a presidential candidate in 2016, he had released only his 2014 returns. 
This is a developing story. Please check back for updates.
[//pagead2.googlesyndication.com/pagead/js/adsbygoogle.js
});
]

Source link